Disclaimer: as the TRYP token continues to be developed, please keep in mind that the information provided below is subject to change prior to launch.
​
Overview
​
TRYP
TRYP will be a ERC-20 utility/governance token for the BYO Universe. Holders will be able to claim TRYP from staking Apostles & BYOLand pre-world launch. Post-world launch, holders will claim more rewards if they stake the TRYP token itself, interact with the BYOVERSE and reach milestones, win tournaments, and even through user-generated content initiatives.
Note: The BYOVERSE will be fueled by 2 tokens, TRYP being the capped supply utility/governance token, with the second token being an uncapped supply in-world currency token with its own faucet/sink mechanics to be released prior to the BYOVERSE launch
​
Goal
The ultimate goal with TRYP is to decentralize the ownership and governance of the BYOVERSE gradually over time by rewarding early holders & believers, and those that interact with the world post launch.
​
Total Supply
The total supply of $TRYP will never exceed 270,000,000 and will be unlocked over a predetermined schedule over a period of approximately 72 months from its launch (schedule still in development).
​
Allocation
Rather then the typical public sale for the token, BYO Studios opted to reward holders by allowing them to claim $TRYP tokens via staking of their BYOLand and Apostles over a period of 6 months. 13% of the total TRYP supply, or 35,100,000 TRYP, will be allocated to holders during this period of time for FREE (see token allocation chart below)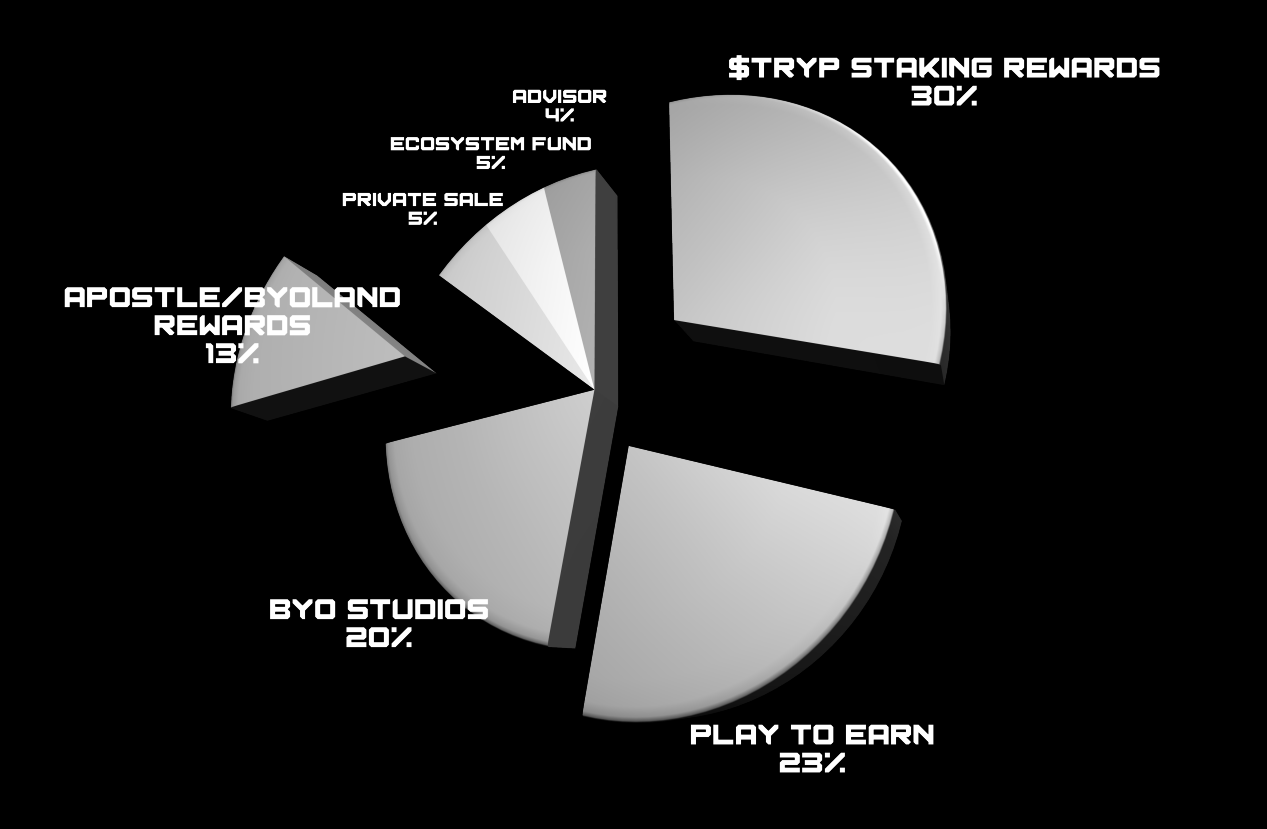 ---
​
Utility
​
NFT Drops
TRYP is an exchangeable token that will be used for future in-game item drops, with varying prices based on game item rarity.
​
Upgrades
TRYP can be used to upgrade and customize your Apostle with future attachments.
​
Events
The TRYP tokens are required to participate in certain events in the BYOVERSE.
​
Crafting
With TRYP you can craft & forge new items in the BYOVERSE that allows you to further immerse yourself in the Metaverse.
​
NFT Generation
Creating new NFTs, and many more added features in the future!