​
Overview
​
Introduction
Apostles are full-body, rigged 3D models with future use across the Metaverses and Blockchain games. Expect them to represent your identity in the biggest metaverses, or as playable characters in other blockchain games going forward, starting with our very own BYOVERSE.
---
​
Tiers
​
Rarity
Apostles consists of four tiers, which provide the holder with unique utility solely based on the type of Apostle they own. The four tiers, ranked by rarity, includes:
Goddess
Ancient
Psychonaut
Voyager
Each tier of Apostle will have advantages in the BYOVERSE that enhances your experience, whether it is unique special passive abilities and/or certain stats (e.g. stamina, speed, strength). Does your apostle come with a light scope on its helmet? That sounds like it might come in handy in the deep dark caves of the BYOVERSE.
​
Goddess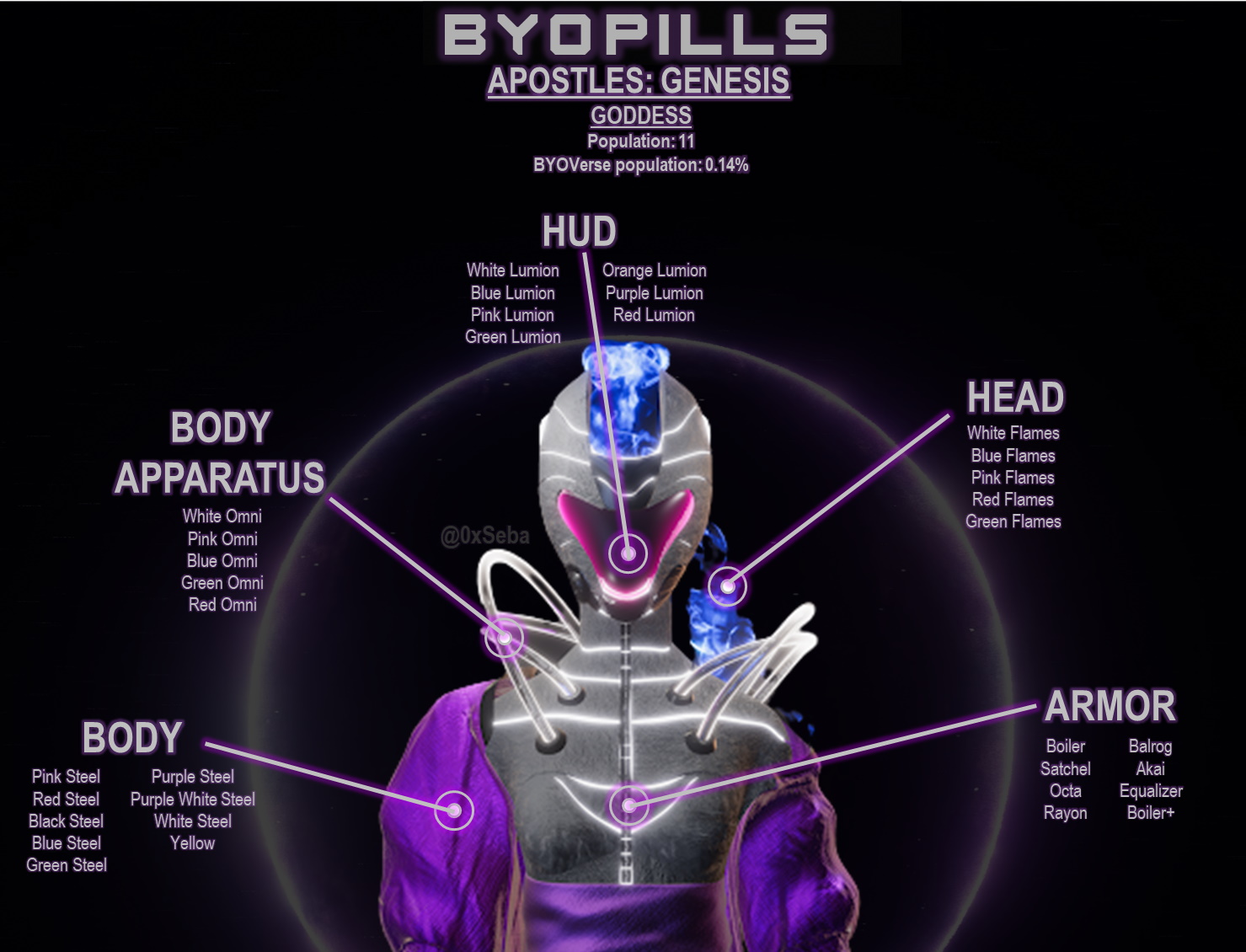 Breakdown of Goddess properties.
​
Ancient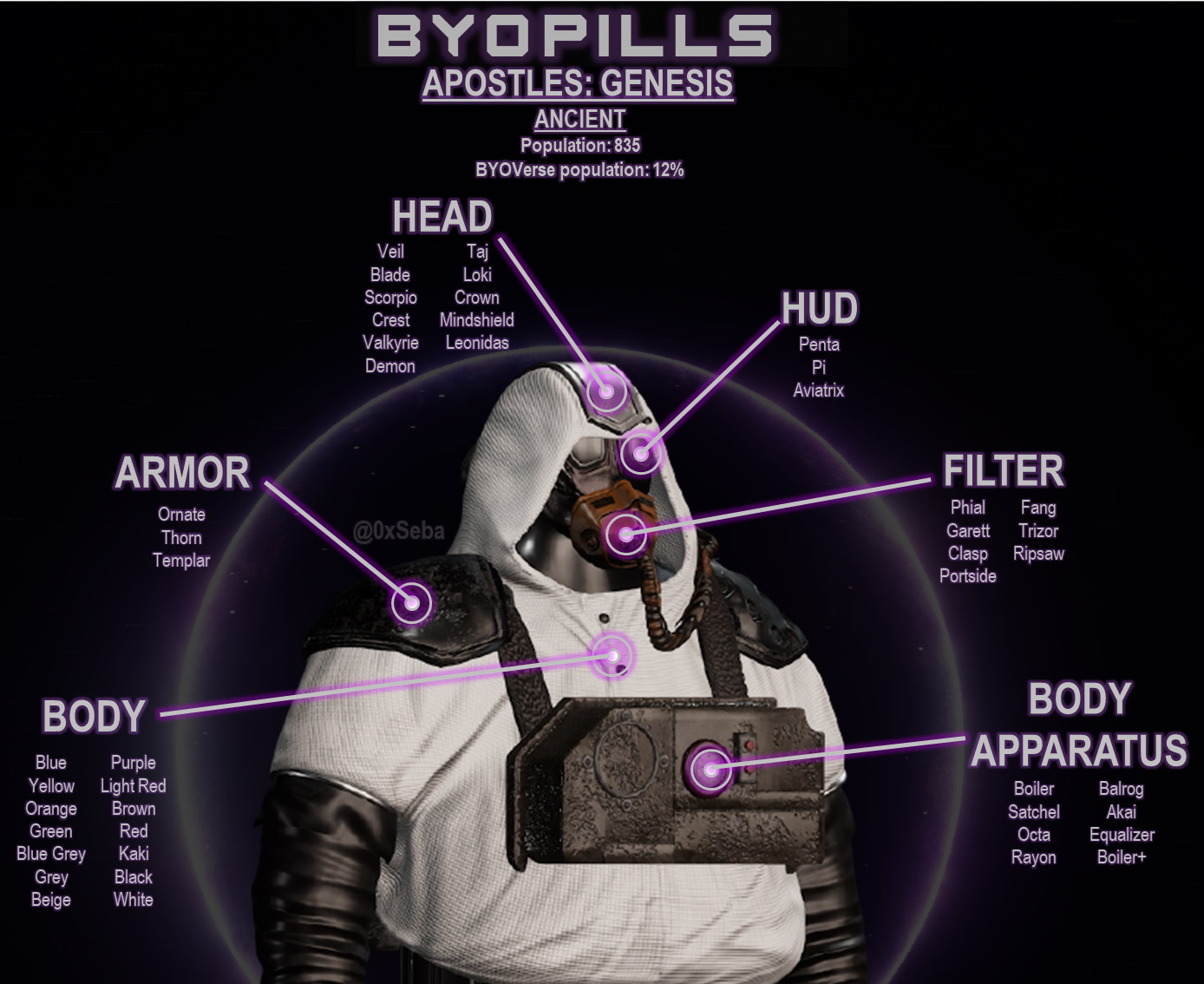 Breakdown of Ancient properties.
​
Psychonaut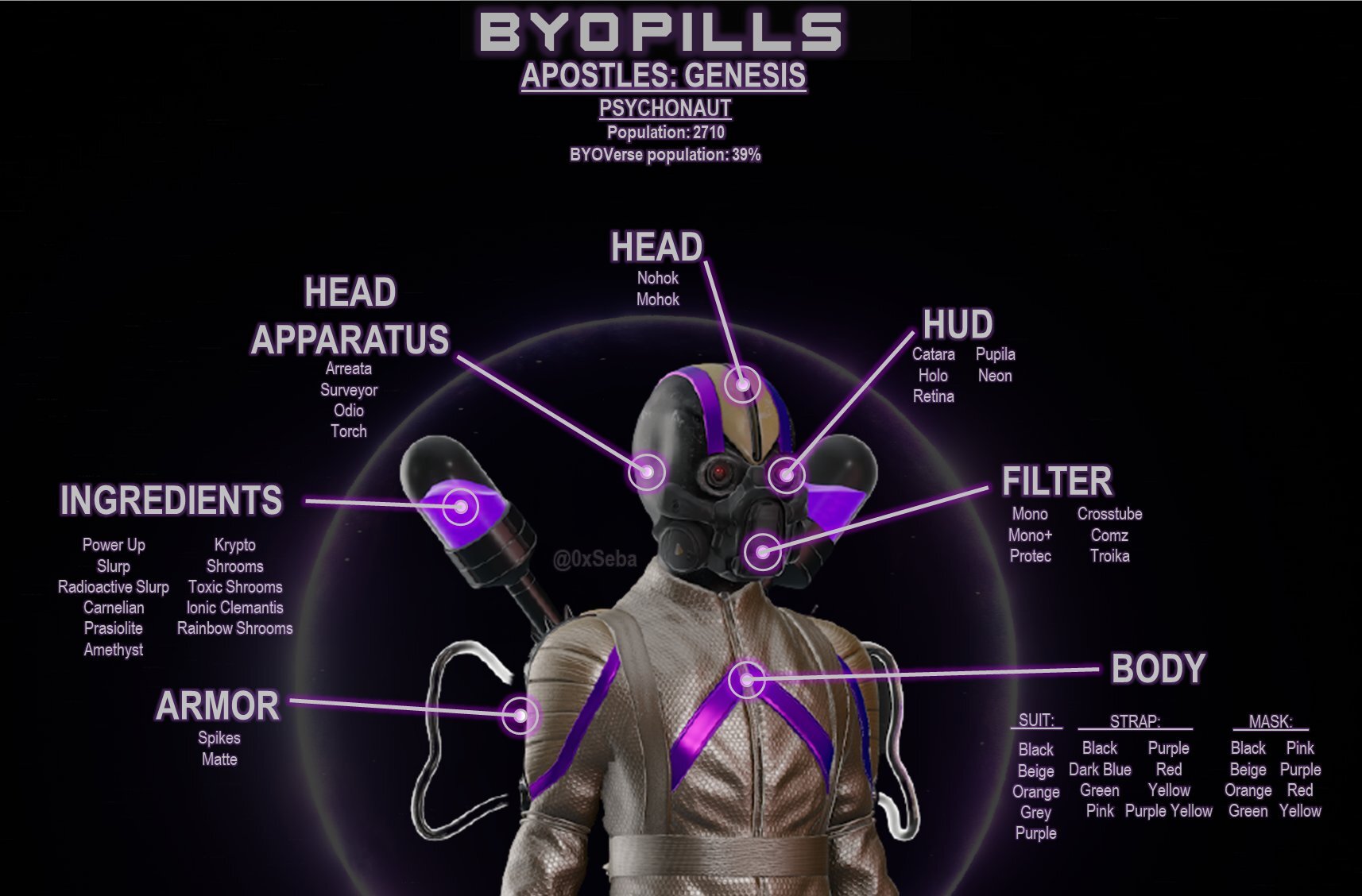 Breakdown of Psychonaut properties.
​
Voyager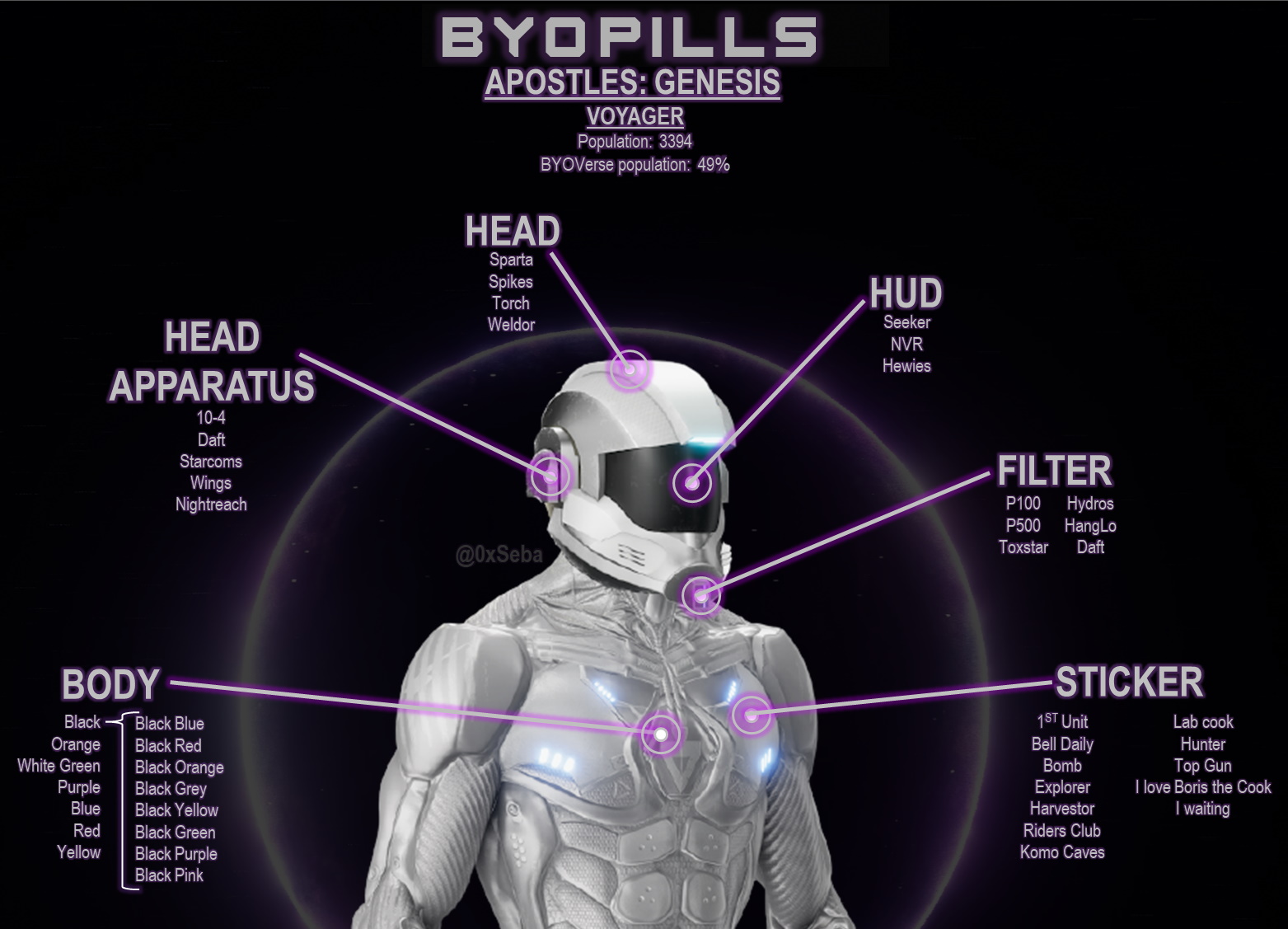 Breakdown of Voyager properties.
---
​
Utility
​
Staking
You will be able to unlock "Tiered Token Generation" by staking an Apostle. Tiered Token Generation is based on the type of Apostle you own and have staked. A staked Goddess will earn more $TRYP than a staked Ancient, who will earn more than a staked Psychonaut, who will earn more than a staked Voyager.
To stake an Apostle in the future, you will need to own a BYOPill. For each staked Apostle, you will need 1 BYOPill (1-to-1 ratio). To un-stake your Apostles, you will need to have the same number of BYOPills in your wallet. In other words, pills unlock the staking mechanic.
You can earn even more $TRYP by tying more pills to a staked Apostle. Tying more pills to 1 staked Apostle will give you a multiplier on the number of $TRYP earned.
​
$TRYP Generation
TRYP will be rewarded to Apostles & BYOLand holders via staking over a period of 6 months after TRYP launch. The period, along with the allocation, might be extended based on BYOVERSE development.
A BYOPill is required to stake Apostles. Apostles will generate TRYP based on their tier/type. Tying 1 extra BYOPill will give a 1.25x multiplier to TRYP generated, tying 2 extra BYOPills to a staked Apostle will give a 1.45x TRYP multiplier. Check our $TRYP calculator to see your potential earnings.
13% of TRYP will be allocated 60/40 between Apostles & BYOLand with 60% allocated to Apostles given the BYOPill requirement.
NOTE: tying a pill does not mean you're staking it, but it is required to be held in your wallet at all times to stake/unstake/claim.
​
Customization
Apostles will be customizable in-game, allowing you to attach and detach certain items as NFTs that give you added utility in the BYOVERSE.
​
BYOVERSE Access
Apostles grants you access to the BYOVERSE, a world that you can roam and explore, gather resources, craft and forge items, interact with NPCs, collect loot, and participate in PVP events for big prizes.
The BYOVERSE will host game events and treasure hunts, with invaluable rewards. Who knows what Boris left in there… last I've seen him he was walking around with an ape… All in-game items (resources, crafted/forged items) will be NFTs and will enable a p2e mechanic in the future.
​
Rentable
Apostles will also be rentable in the future - if you don't have the time to enter the BYOVERSE, you will be able to rent it to someone who does through the ReNFT protocol.