​
Overview
​
Introduction
As it stands, the BYOVERSE is a fertile virgin land, filled with complexities and opportunities, and truly is a region distinguished by superlatives. We need you to shape the future of the BYOVERSE and cultivate the lands we're going to live on.
A finite resource, only 10,056 BYOLand parcels will ever exist in the BYOVERSE. Each uniquely abundant, with varying terrains and resources created by your BYOPill. The BYOPill you choose to mint your BYOLand with will alter its terrain and the resources it provides, shaping the BYOVERSE of the future.
Pill Top impacts the terrain of your BYOLand, allowing you to mine resources mainly used for crafting.
Pill Ingredient impacts the resources cultivated on your BYOLand, allowing you to gather these resources mainly for consumption.
Sum of all your Trip Effect Levels impacts the abundancy of your land and the number of resources it can provide in any given timeframe.
Gather resources, consume or use them to craft items to enhance your gameplay, sell them on the future marketplace, or convert them to $TRYP, the future governance token which enables exclusive marketplace purchases, breeding, and many more.
​
Land Breakdown
There are 16 zones that have been disclosed via the recent metadata update for the BYOLand.
These 16 zones are outlined below, and the corresponding pill tops for each zone are also included.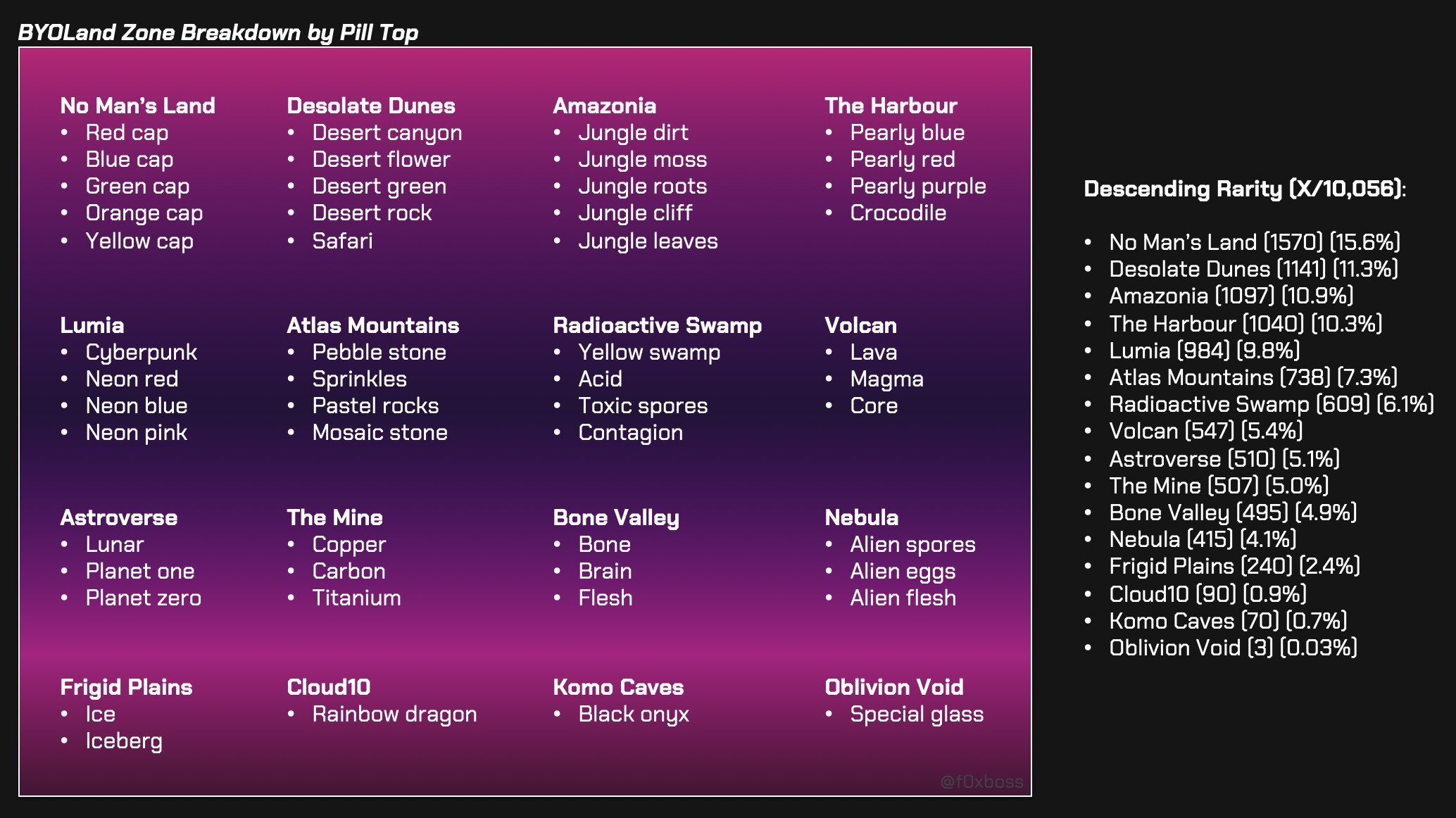 BYOLand Zone Breakdown by Pill Top.
Credit: f0xboss.
​
Early Leaks
An alpha on land selection was shared on Discord to showcase what selecting a spot in your zone might look like. Given the traits of the land it resembles the general idea of a Volcan zone.
It was confirmed by the team that a single tile on aforementioned video represent a BYOLand. This also adheres to the previous knowledge of choosing a specific location within your designated BYOLand zone.
Additionally, more alpha on BYOLand elevation, displaying a elevation scale from -100 to 500 meters. This indicates that your zone potentially can include underground terrain, mountains, or both.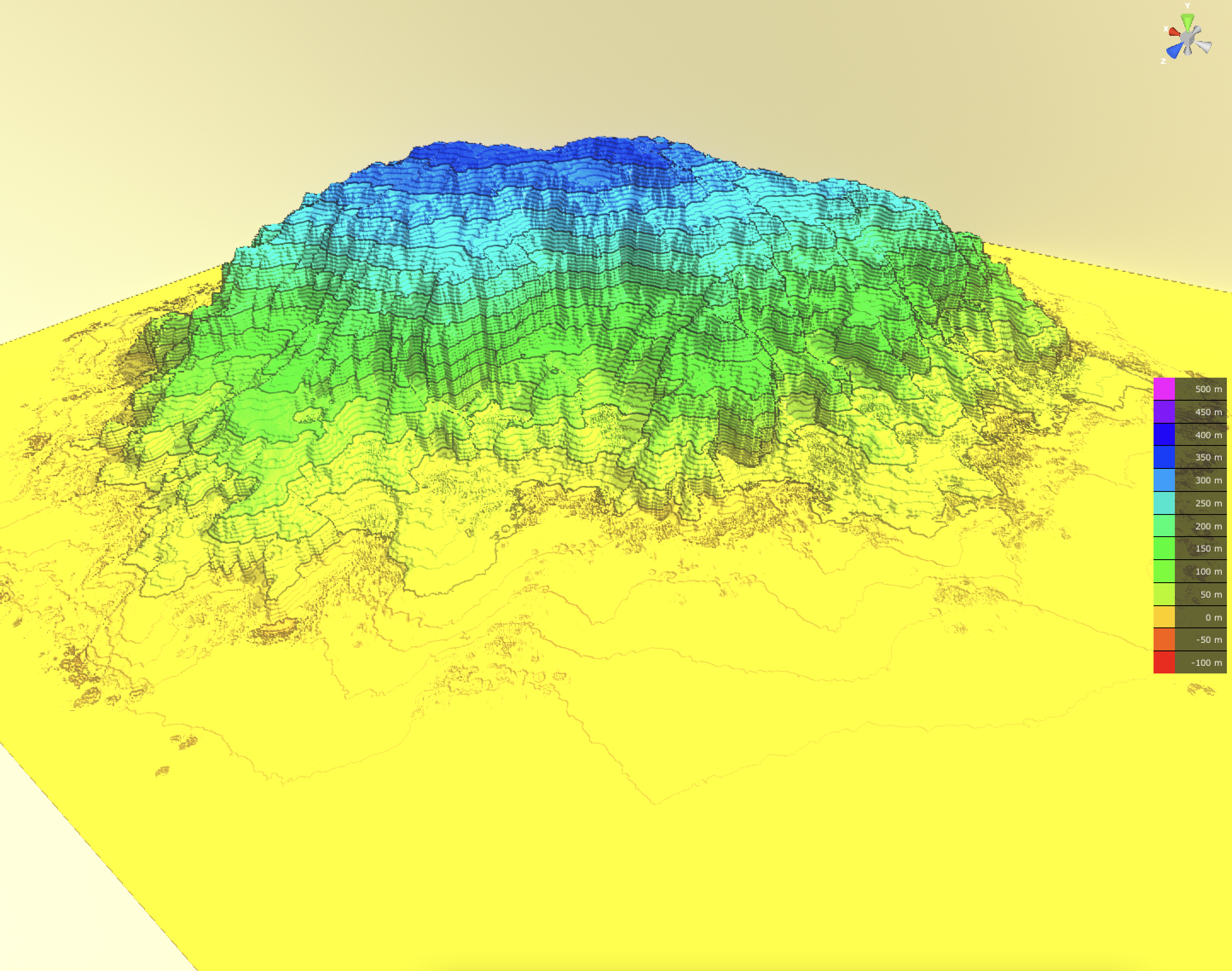 Illustrate elevation of BYOLands.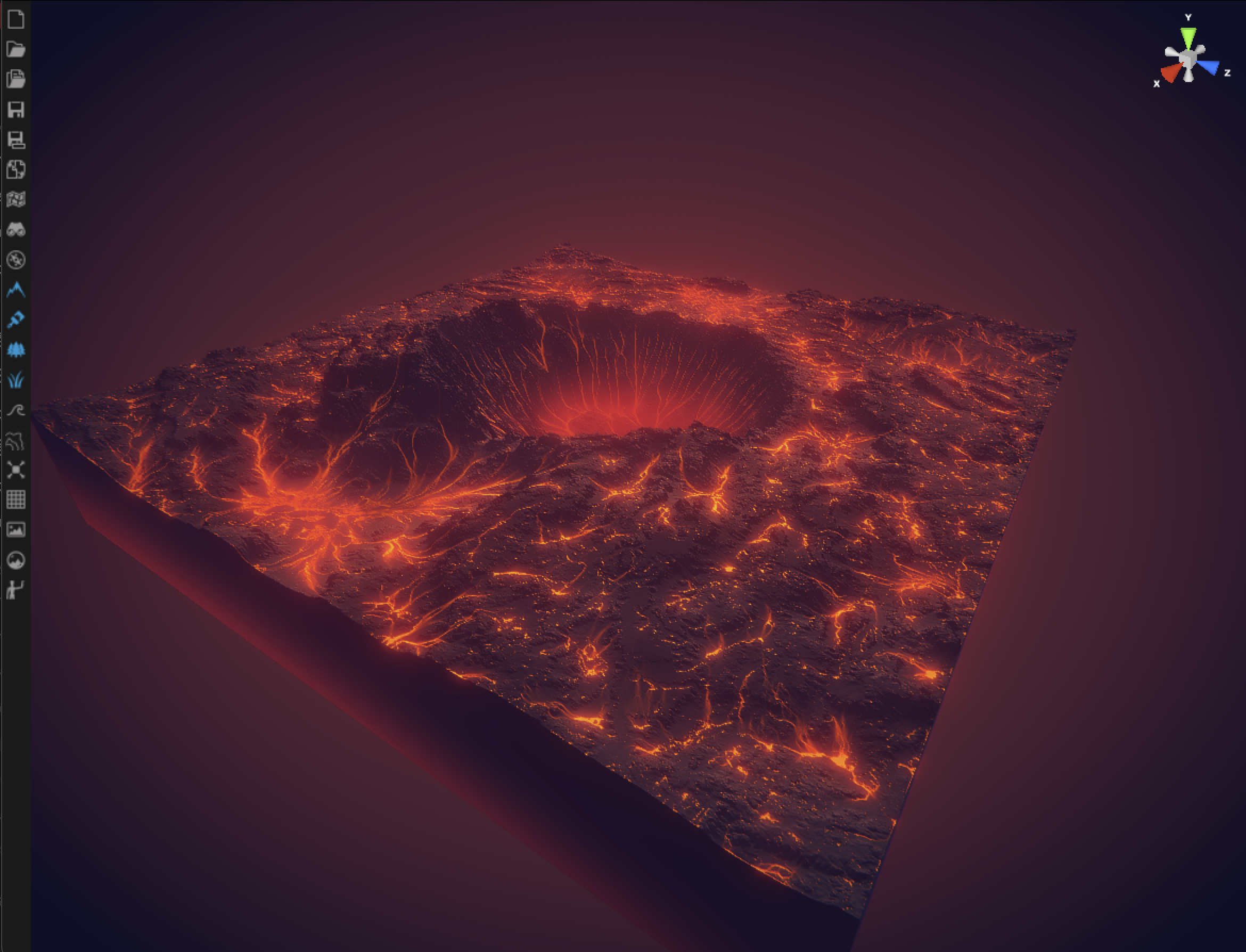 BYOLand detailed overview.
BYO Studios is building their landscape by utilizing World Creator for maximum customizability and real-time prototyping.
---
​
Utility
​
$TRYP Generation
TRYP will be rewarded to Apostles & BYOLand holders via staking over a period of 6 months after TRYP launch. The period, along with the allocation, might be extended based on BYOVERSE development.
No BYOPill is required to stake BYOLand. BYOLand will generate TRYP based on their abundancy. Tying 1 extra BYOPill will give a 1.35x multiplier to TRYP generated. Check our $TRYP calculator to see your potential earnings for each type of abundancy.
13% of TRYP will be allocated 60/40 between Apostles & BYOLand with 40% allocated to Apostles given the BYOPill requirement.
NOTE: tying a pill does not mean you're staking it, but it is required to be held in your wallet at all times to stake/unstake/claim.
​
$TRYP Earnings
Interacting with, building onto, and tending to your land will earn you $TRYP.
​
Resource Production
Land will produce resources that you will be able to gather for your own use. Your lands resource will depend on the pill top/ingredient/sum of trip levels of the pill that it was minted with. Resources are key ingredients in the BYOVERSE, as you'll need them to craft a wide range of items, consume them to survive or enhance gameplay, sell them on the marketplace, or even convert them to $TRYP. Resources will have varying utility and rarities like that of pill traits.
Example: Eyeball ingredient will spawn mobs on your land that drop eyeballs, needed to craft consumables that grant enhanced vision or even invisibility.
​
Gathering
Scavengers roaming the BYOVERSE will be able to gather resources from your land, while paying you tax in the process. This gives you % allocation of the number of resources they are gathering.
​
Harvesting
The different tiers of Apostles will impact how efficient you manage your land (e.g. an Ancient can harvest more resources than a Psychonaut at a given time).
Note: non-Apostle holders who own Land will be able to access and explore the BYOVERSE with a generic avatar
​
Customization
Land will be customizable and upgradeable, allowing you to build your own base to protect your resources from scavengers (if you want them all to yourself), or to upgrade your land for more efficient harvesting.
​
Adjacent Land Optimization
Owning multiple adjacent land will boost resource production and will provide more options when it comes to forming your base.
Note: it has been confirmed by the BYOPills team that you can group lands from multiple zones and create an adjacent stack if the different BYOLands meet each other on the border of the biomes.
​
Storage
Land also doubles as your personal safe storage zone, allowing you to safely stash everything you've collected in the BYOVERSE with ease of mind knowing you won't lose them (e.g. via death).
​
Teleportation
When in danger, or for quick mobility, you will be able to teleport back to your land at any time (excl. cooldown). Land also acts as your personal safe zone, a place where you can't attack, or be attacked.